Christmas Market Stephens Place
A very special christmas market in the city center of Vienna is next to the St. Stephens cathedral. It is the most central one.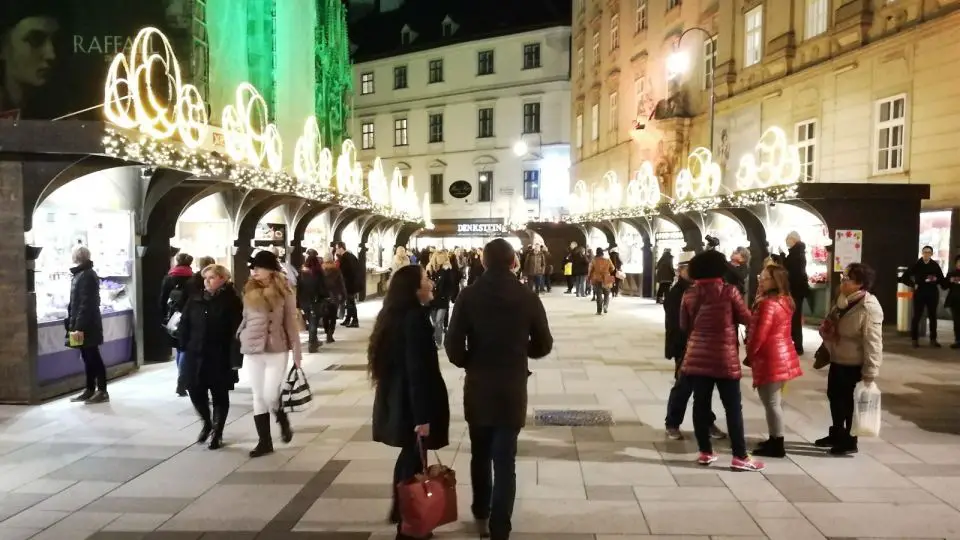 Christmas market Stephansplatz in Vienna
It is a highlight in the time of Advent. A visit to the Christmas market on Stephansplatz in the shadow of St. Stephen's Cathedral is special. The Christmas market on Stephansplatz is characterized by the special quality of the exhibitors. Here is hardly sold bulk goods. Most products in the range of market stalls are from domestic production and usually also refined in a special way.
Less drinks, more exclusivity
The fact that the Christmas market on Stephansplatz next to St. Stephen's Cathedral has positioned itself, makes the visit to a special experience. Because most of the Christmas markets in Vienna are designed for good entertainment and fun. This market is different. You can talk well, but above all buy interesting products.
The focus of the Advent market on Stephansplatz in Vienna is the arts and crafts, while wood carvings, glass art and Christmas tree decorations are offered. Of course there is also a culinary offer and drinks at the Christmas market on Stephansplatz. The Christmas market Stephansplatz is certainly one of the quieter Christmas markets in Vienna.
Viennese Scheekugeln (Literally: »Snow Spheres«)
One of these noteworthy market stalls is, for example, the "Wiener Schneekugeln" stand. These structures made of glass are presented there directly from the family of the inventor. It is filled with small flakes and stimulates to play. You can also see a picture of these snow globes in one of our pictures here in this article. The company »Original Wiener Schneekugelmanufaktur« manufactures these products for over 100 years in the 17th district of Vienna.
Facts about the Christmas market Stephansplatz
Optimal accessibility: Subway lines "U1", "U3", station Stephansplatz
Map: Christmas market Stephansplatz (English version)
Opening hours 2018
First day of the Christmas market: November 16th
Last day of the Christmas market: December 26th
Monday: 11:00 - 21:00
Tuesday: 11:00 - 21:00
Wednesday: 11:00 - 21:00
Thursday: 11:00 - 21:00
Friday: 11:00 - 21:00
Saturday: 11:00 - 21:00
Sunday: 11:00 - 21:00
24th December: 11:00 - 16:00
December 25th: 11:00 - 19:00
December 26: 11:00 - 19:00
Admission free
Link: General Information about Christmas Markets and Advent Markets in Vienna